luxury chalet rental in the Pyrenees
NEAR SAINT-LARY - PERSONAL AND CORPORATE RETREAT
capacité 12 personnes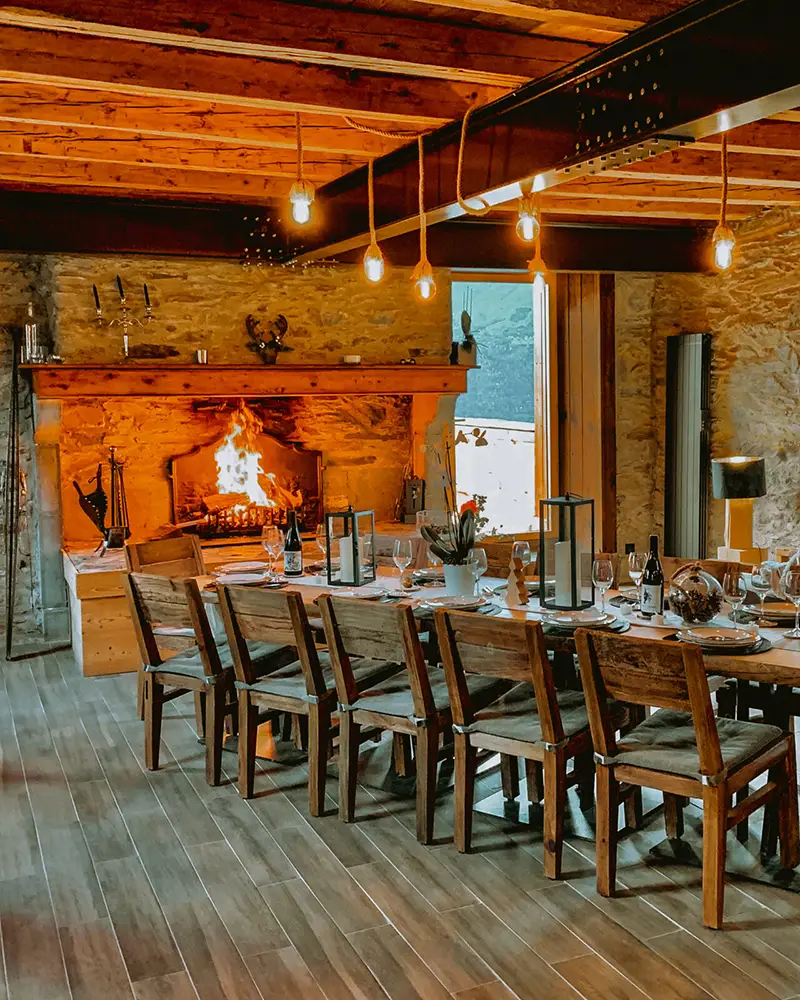 Weekly rentals, weekends, family, friends and business events
On the heights of St Lary Soulan, in the heart of the alpine village of Azet, a "coup de coeur" stay in a private atmosphere for lovers of "privacy and well-being". The dominant position of the Chalet "Lodge Panoramique", offers you exclusive views of the mountain tops. Celebration of a benevolent and dazzling Nature between peaks and forests. Outdoor North Bath with a panoramic view, sauna, wine cellar, let yourself be tempted by this magnificent 5 star Pyrenees luxury chalet.
Admire the tops of the fir trees and the snowy or sunny summits. Located in the middle of nature, our mountain chalet allows you to fully enjoy your vacation. Enjoy your vacation with family and friends, magnificent, modern and spacious chalet and create your own cosy cocoon and enjoy a stay of pur happiness.
Warm moments in a cosy and intimate atmosphere by the fire... the "Lodge Panoramique" makes you enjoy a stay of pure happiness. Everything you need to recharge your batteries.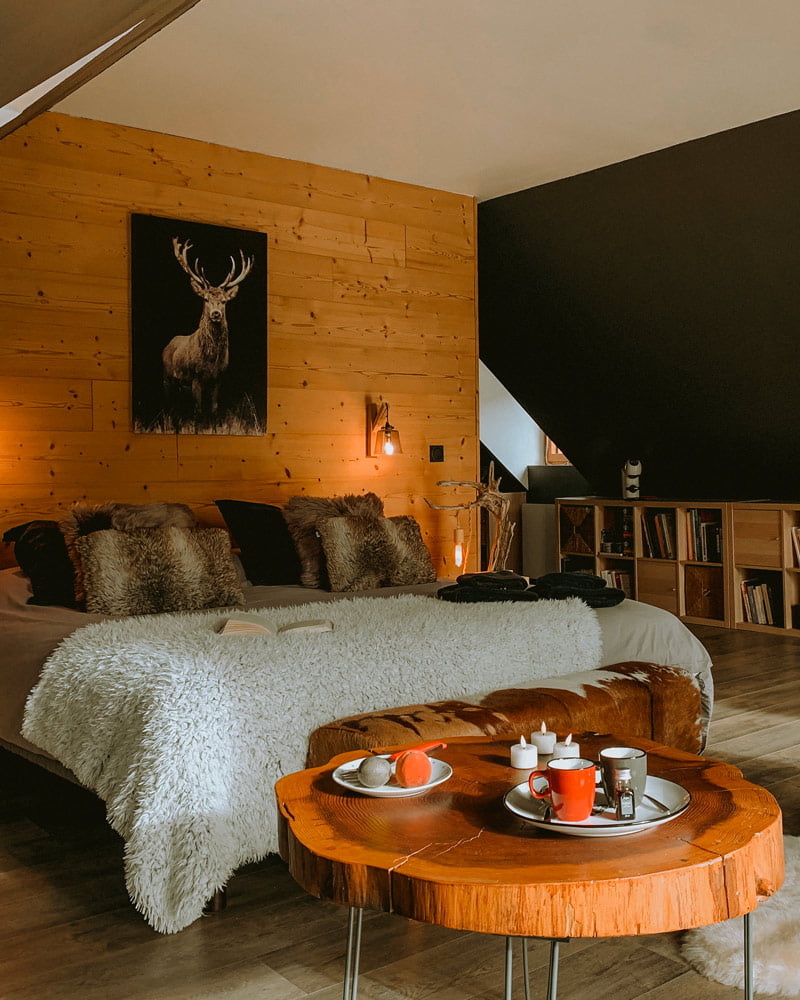 Flagship element of the lodge... Enjoy a spacious room of 45m2 equipped with a large bed 180×200, a dressing room, a private bathroom with shower and bathtub and independent toilets.
Fall asleep in an upscale mountain atmosphere, surrounded by candles and snuggled up in soft sheets and pillows.
For more privacy during your stay, four of our rooms are equipped with a private heated bathroom with shower, towel dryer and toilet.
The "panoramic lodge" is fully equipped for you to spend pleasant and friendly vacations. To enhance your moments of gastronomic sharing, you will have at your disposal a fully equipped kitchen, a wine cellar, a large living room...
For a pleasant stay, we put at your disposal a fully equipped open kitchen.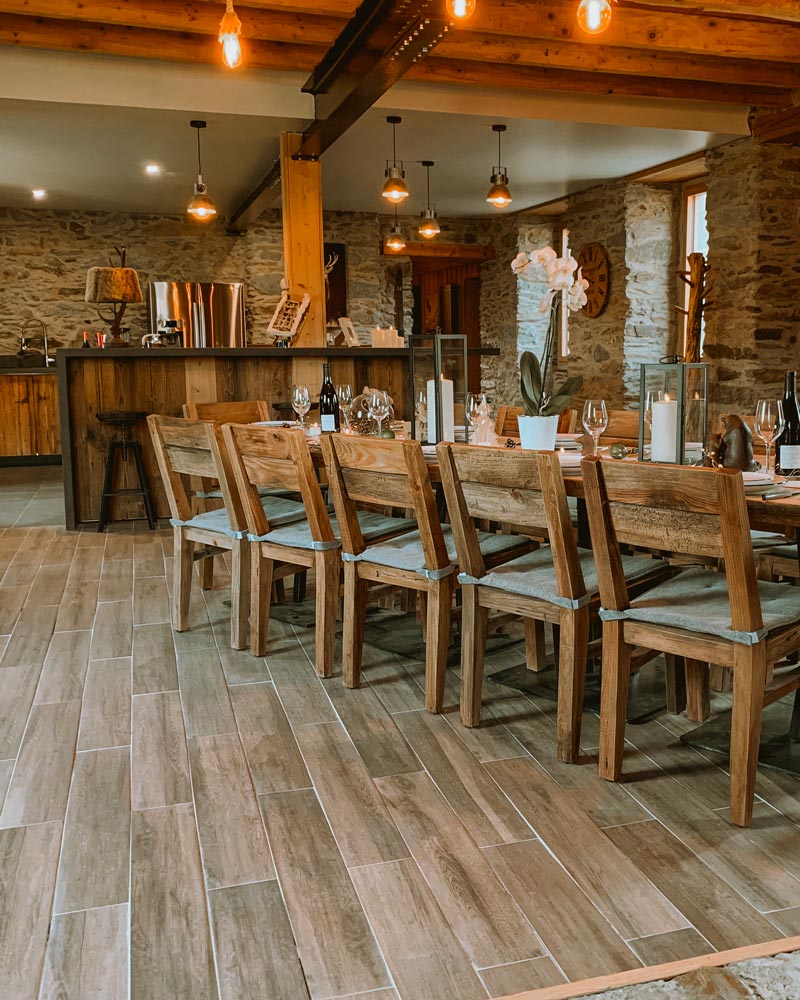 To spend a relaxing moment with others, our living room is the ideal place. Large dining table, fireplace, this space is designed for you to enjoy a comfortable and luxurious stay.
Dear amateurs of great wines, we put at your disposal our wine cellar, for an unforgettable stay in our luxury chalet in the Pyrenees.
Stay in the mountains and calmness and serenity, real moments of relaxation and gentleness await you... Eden of well-being, you will enjoy a Sauna and a Nordic Bath, an immersion in a "cozy and relaxing" universe, a cocoon of pleasure.
Associated with wellness, nordic baths originated in the Scandinavian countries. Nowadays, they are highly prized for their soothing and relaxing properties, these baths will offer you the possibility to relax while enjoying a moment of wellness and a breathtaking view on the mountain. Take time to relax in your private Nordic bath facing the mountains.
Anti-stress, beneficial for the skin, soothing. The sauna has many benefits. Our 22m2 sauna area will allow you to recharge your batteries and enjoy moments of pure escape.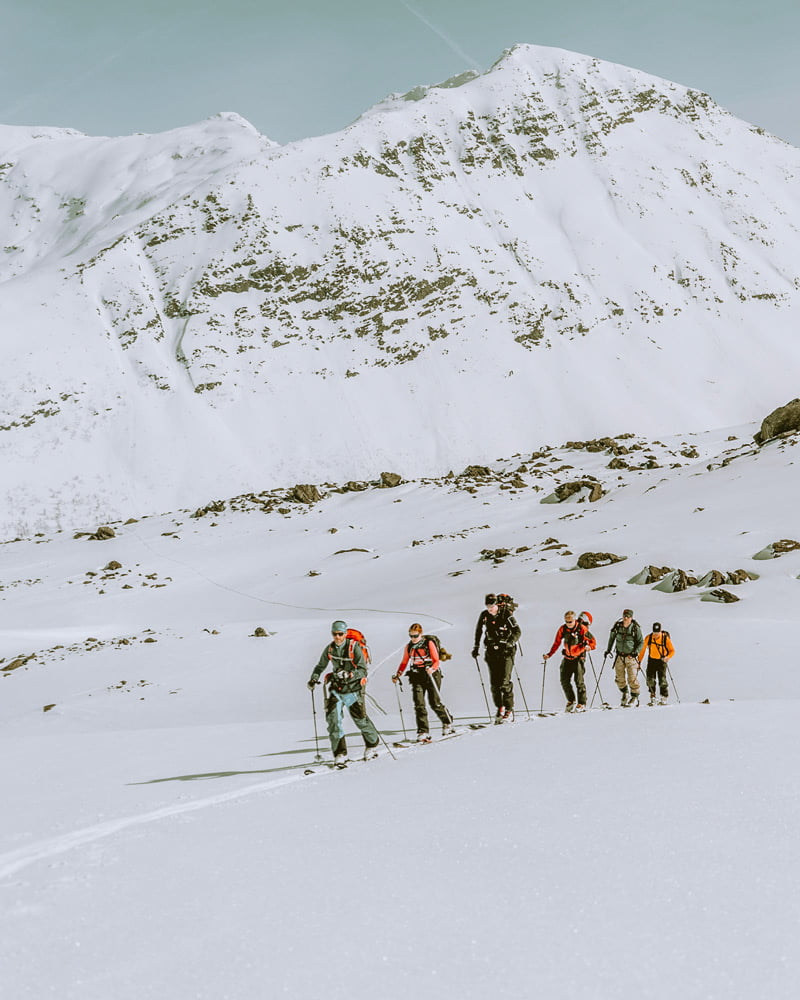 The Lodge is ideally located, at the crossroads of various ski resorts and ski areas. Make the most of your stay by practicing numerous mountain sports activities. Winter and summer sports: Skiing, snowboarding, hiking or mountain biking, paragliding, mushing, sledding, ice skating, snowmobiling, rafting, canyoning, etc.
Saint Lary – Pla d'Adet – Espiaube : 10 min des Télécabines (6km) « Le plus grand domaine skiable des Pyrénées » 
Val Louron : 15 min (8KM)
Peyressourde : 25 min du Skyvall (15km)
Piau Angaly : 37 min (24km)
Concerned about the comfort of our customers, we offer additional services and offers to facilitate your stay. We adapt to your requests, do not hesitate to tell us your expectations in the contact form. We have many local partners in various fields. Chef at home, delivery of local products, pastries for your breakfasts, etc... In the Chalet *we offer additional services and specials to facilitate your stay *options